08 09 10 11 12 13 14 15 16 2017
Seattle, Washington, U.S.A.
Printed by Matthew Offenbacher

In 1986 the RISO Kagaku Corporation introduced the digital duplicator, an automated version of the mimeograph machine. Duplicators print by pushing ink through a stencil wrapped around a printing cylinder. Advantages over a photocopier include: soy-based inks in a variety of colors rather than plastic toner, 95% less energy to run (because there is no heating element or laser involved), and up to 180 prints per minute at a cost of as little as 1/3 of a cent each. In the United States, these machines are typically found in school district offices and church basements. Beginning with issue 6, La Norda has been printed on a Riso RP 3505 that was generously donated by the Witt Company. Issues 1 - 5 were printed on a Xerox DocuTech photocopier at a copy shop near the University of Washington. The paper is 24/60 lb. Wausau Exact Offset Opaque in a variety of standard office paper colors. Software used in creating La Norda include Adobe Photoshop CS2 and ACD Canvas X, and Adobe InDesign running on a MacBook G4. Fonts used: Garamond Premier Pro, an Adobe font family which Robert Slimbach based on Claude Garamond's metal punches kept at the Plantin-Moretus Museum in Antwerp, Belgium; and Euphemia, intended by Tiro Typeworks to set Canadian Syllabic script (including various Cree orthographies, Inuktitut and the historical Carrier/Dakelh script dulkw'ahke), but used here for its clear, humanist sans-serif Latin characters. Since issue 9, the standard Norda typefaces are: Mason Neue, a lovely contemporary Grotesque by Timo Gaessner, and Century Schoolbook Italic, originally designed by Morris Fuller Benton in 1919.
the Riso RP 3505
14. master roll cover
15. scanner table release lever
16. master roll
17. master making unit release lever
18. master making unit
19. scanner table
20. master disposal unit
21. counter
22. front cover
23. ink cartridge
24. ink cartridge release button
25. ink cartridge securing cover
26. print cylinder (drum) handle
27. print cylinder (drum)
28. print cylinder (drum) release button
29. main power switch
30. paper arranger
31. receiving tray paper guide
32. paper receiving tray
33. paper stop
a portion of the Euphemia character set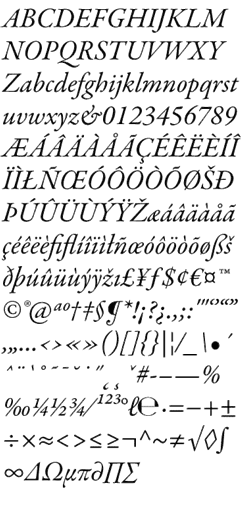 a sample of Garamond Premier Pro italic
colors of Wausau paper
pattern menu, Canvas X